SureCall N-Range® cell phone signal booster for vehicles increases voice, text and 4G LTE for a single device inside any car, truck or SUV.
Using just two components – N-Range outside antenna and air-vent phone mount with built-in antenna – N-Range has revolutionized the vehicle signal booster to keep drivers connected to very distant and hard to reach cell towers.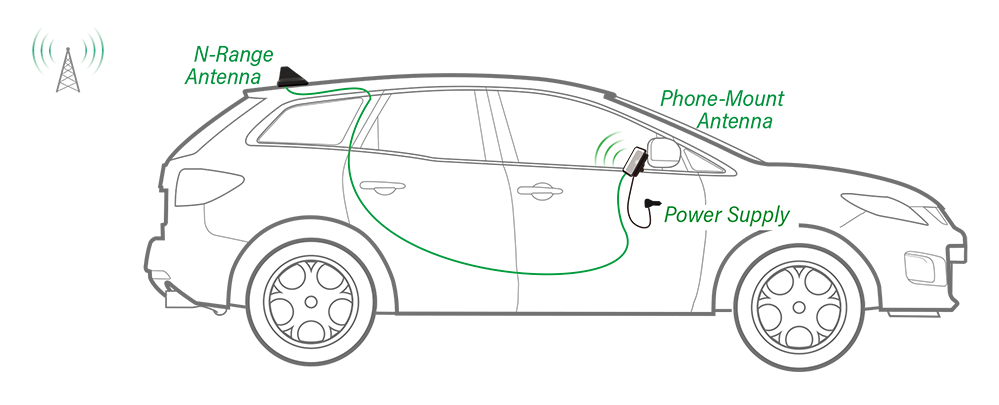 N-Range boosts all cell carrier signals in North America using Extended Range Technology™ (ERT) to capture, amplify and transmit the improved signal more effectively than any other booster on the market. By eliminating signal loss before amplifying the signal, the N-Range booster is able to maximize performance in both urban and suburban environments. For a single device in very weak signal areas, there is simply no better cell signal booster for calling, texting and streaming data.
Improves voice, text and data signals for every cell carrier in the US, Canada and Mexico
Boosts signal strength for all signal types – including 4G LTE
Compatible with all cellular powered devices
Equipped with Extended Range Technology, the industry's most powerful system for maximizing cellular reliability in vehicles
Quick and easy 3-step install and transferrable to any vehicle
Improves 4G LTE data speeds and connectivity for more miles of uninterrupted coverage
Industry best 3-year warranty and lifetime, 24/7 US-based tech support
All kit components are included for a simple DIY install that takes just minutes.
KIT INCLUDES
N-Range exterior antenna
Interior phone-mount cradle
12V DC power supply
Quick setup guide
SUPPORT DOCUMENTS